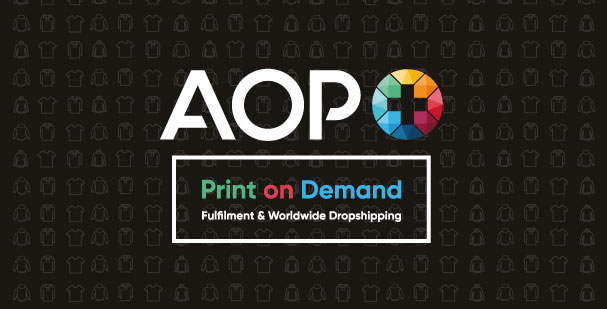 All About AOP+: The Best Print on Demand Company for US, UK & Europe
It's no secret that the print-on-demand industry is still going strong and is one of the most innovative ecommerce models you'll find.
With constantly evolving trends and growing product catalogs pushing the boundaries of an industry that was once just simple, funny slogans on t-shirts, its safe to say that consumers expect a lot more from their printing partners nowadays.
Thanks to advances in printing technology and the ability to make swift changes to meet the need of the market, AOP+ has managed to stay ahead of trends and offer cutting-edge products to its sellers whenever they are needed.
Whilst being a print-on-demand fulfilment partner is not without its challenges due to bigger players in the market offering discount-prices and multiple shipping locations, AOP+ has focussed on its strengths and stayed true to its commitment to always provide superior customer service and unbeatable quality products.
Before we take a closer look at AOP+ pricing and product catalog options, let's explore some of the history of this UK based print-on-demand company.
Nowadays you'll know AOP+ as a highly professional and top quality UK based print-on-demand vendor fulfilling orders for both Shopify and Etsy sellers around the world, but it wasn't always like that.
AOP+ came from very humble beginnings, almost being born out of necessity!
Founded by Uygar Turantekin in 2009, AOP+ originally started as a novelty t-shirt stall at the famous Camden Town Markets in London, UK.
Back in 2009 the business wasn't even called AOP+, but the business certainly had some great growth during the early online t-shirt sales boom.
Being the savvy businessman that he is, Uygar took his business online and was a top seller on Amazon for many years.
The business grew to have 4 staff and a small premises in the London, ready to take deliver of 3 DTG printing machines due to arrive from the USA.
It wasn't until Amazon shut down the store in 2014, without notice, that Uygar realised he needed to diversify his business and mitigate the risks involved in selling online platforms.
It was in 2014 that Amazon completely shut down Uygar's printing business, right after he invested in 3 DTG machines from the USA.
In 2014, "AllOverPrint" was born and they began fulfilling apparel orders for other online sellers.
Nowadays, with a fresh name change to AOP+, the business services over 10,000 print-on-demand sellers across its Shopify and Etsy apps.
AOP+ is also growing a fast online presence both organically and through Facebook Ad and YouTube Ads.
What Products Does AOP+ Offer?
With an impressive, and always expanding, product catalog of 120+ products, AOP+ offers all of the staple print-on-demand garments, accessories and homewares that sellers have come to expect.
Sellers can choose from a full range of standard DTG (direct-to-garment) products with superior print quality, in both an entry-level "classic" quality garment or a slightly more expensive "Premium" option.
Let's take a glance at some of the products sellers can choose when using AOP+.
T-Shirts, Tanks, Hoodies & Sweatshirts
AOP+ offers a huge range of staple apparel items for you to sell year round. Starting from entry-level Gildan brand, or similar, "classic" tees, hoodies and sweatshirts, sellers can also choose more unique apparel options such as:
Printed pocket t-shirts
Organic 100% cotton garments
Raw-edge crop tops
Hoodie & T-shirt dresses
Polo shirts
V-neck-tshirts
Varsity jackets
Regular and racerback tanks
Canvas Wall Art
Mid-2021 saw the additional of high-quality canvas wall art to the AOP+ catalog. Available in multiple sizes, canvas wall art is a great way for sellers to add high-margin items to their store.
Some of the stand-out features of the AOP+ canvas wall art range include:
Available in 10×8″ right up to 20×20″ sizes
1.5″ deep, rounded edge European sourced pine frame
Bright white satin-matte coated cotton-rich canvas
Gloss, matte or silk varnish finish to protect print
Shipped with corner protectors and a mounting kit
Cut & Sew Sublimation Products
In addition to standard DTG products, AOP+ has a growing range of cut & sew sublimated products. To simplify the definition of cut & sew sublimation products, think "all over print". Further down in this article there's more explanation about this manufacturing process, but let's take a look at some of the great products AOP+ offers in this category.
Sellers can choose from t-shirts, two variations of sweatshirts and leggings in the cut & sew sublimation range.
All of AOP+'s cut & sew sublimation, or allover print, products are hand-made in London.
Homeware & Accessories
If you run a homewares store or you're just looking for some alternative products to add to your existing apparel collections, some of the AOP+ homeware or accessory products might be of interest to you.
Other products available in the AOP+ catalog include:
Hooded blankets (very popular) & throw blankets
Face-masks with filters
Doormats
Flags & posters
Cushions, both regular and sequin
Custom shape cushions

Phone cases

Pet blankets, bandanas and bowls
Tote bags
Neck warmer morf scarves
Coffee mugs
AOP+ Product Quality
Direct-to-garment (DTG) is the main printing method used in standard apparel products when it comes to print-on-demand. The main reason being that it is a digital print method that allows you to easily print single units, whereas using a method such as screen-printing is time consuming and expensive for single units.
Note: When we say "standard" products, we're referring to items like t-shirts, sweatshirts and hoodies where just a single print area either on the front or back of a product is used. This is the type of print application that is possible with DTG printers.
Whilst screen-printing is sometimes considered a better quality print finish than DTG, screen-printing cannot print detailed designs and is not eco-friendly in comparison due to the setup requirements and material wastage.
DTG printing is also improving drastically due to advances in technology and it allows the printing of highly detailed and colored products that cannot be achieved with screen-printing.
Like all major POD suppliers, AOP+ uses DTG printing technology for their standard apparel products and is proud to use some of the most state-of-the-art DTG printers available, such as the Epson F3000 range of printers.
Having modern DTG printers allows AOP+ to offer fast manufacturing times whilst maintaining the highest level of quality in every product they ship out the door.
In addition to the huge range of standard apparel, homewares and accessories, AOP+ has expanded its product catalog to include cut & sew sublimation products.
Giving a vibrant and premium "all-over" print, this range of products includes sweatshirts, t-shirts and leggings.
Cut & sew sublimated products are printed onto large pieces of fabric and then cut-out and sewn together to make the finished garment.
AOP+ Product Pricing
AOP+ currently has over 120 products available to sellers, so we won't list every single price here. You can install the app to check the prices of all products, but for now let's take a look at some of the most popular products.
It's important to note that whilst the AOP+ is free to install and use, there are also monthly subscription plans that unlock additional benefits and discount pricing of up to 10%.
These prices below are for free users of the app and do not include the discounts available to premium users. Subscription plans are outlined further down in this article.
T-Shirt Pricing (DTG)
A standard "classic" range t-shirt starts at $6.49 for a white t-shirt and $8.99 for a colored tee. This includes one single print to the front of the t-shirt. Colored garments are always slightly more expensive due to additional print preparation requirements.
To ship a t-shirt to the USA will cost $5.49 and if you're shipping to the UK it is slightly cheaper at $3.99.
Various other styles of t-shirts and tank-tops are also available inside the app.
Sweatshirt and Hoodie Pricing (DTG)
Sweatshirts cost $15.99 and Hoodies cost $18.99 for one single front print.
Both sweatshirts and hoodies cost $9.39 to ship to the USA and slightly lower at $5.99 for UK shipping.
Hooded Blanket Pricing
AOP+ prints stunning hooded blankets which are a very popular product. They start at $24.99 for the classic hooded blanket and $44.99 for the premium fleece hooded blanket.
Shipping for hooded blankets starts at $12.39 to the US and $5.99 to the UK for the classic blanket. Because the premium fleece blanket is much thicker and heavier, shipping to the US is $19.99 and $11.99 to the UK.
Whilst the shipping prices for these blankets might seem high, bear in mind that they are a premium item and you can sell them for a high price with plenty of profit margin.
Allover Print Cut & Sew Sublimation Pricing
The cut & sew sublimation t-shirts are $23.53 plus $5.49 shipping to the US and $4.49 to UK.
Sublimated sweatshirts will set you back $33.83 and come in at $5.49 for US shipping and $3.99 for UK.
Leggings are an affordable $27.99 and shipping is $5.74 for USA and just $3.99 for UK.
With these prices, there is plenty of room left for a healthy profit margin for sellers.
The great news is, using the AOP+ print-on-demand app for your Shopify or Etsy store is completely free.
Once you start selling on a regular basis though, it makes sense for you to upgrade to one of the paid subscription plans.
Many POD apps have a similar system to this, but some charge a fee without even offering a free plan. AOP+ understands that this is not always realistic for new POD sellers however.
AOP+ Subscription Plan Pricing
Sellers have three options when it comes to app subscriptions costs.
Start-Up Member: Free
Super Member: $11.99 per month / per brand
Hero Member: $19.99 per month / per brand
If you're a paying member, "per brand" means you can actually have your brand on Shopify AND Etsy without paying the monthly fee twice.
The different pricing plans unlock product discounts and additional features for sellers. Let's take a look at the key features on each of the paid plans.
Super Member Features
5% product discount

Priority customer service support
Personalized product features
Custom branded heat press labels on products for 75c per product
Hero Member Features
10% product discount
Dedicated support, less than 24 hours response time
Personalized product features
Hero branding options including:

Custom branded garment labels
Branded stickers on shipping bags
Custom package inserts

Expedited shipping upgrade options
Special access to new product testing
Additional product catalog / VIP product sourcing
One of the main benefits of upgrading to a paid plan, besides the discount of course, is the branding options available to sellers.
Having additional product branding on your packages can help develop your brand in the marketplace and usually come at a far greater cost with many other POD suppliers, if they even offer these options at all.
Even if you're a free user of the app, you can still add some custom information to the packing slip quite easily from inside the app.
It is important to note that the branded inserts and stickers available to Super and Hero members does come at an additional cost.
If you as a Super Member, the added cost to remove the generic garment label and add a custom heat pressed label is only 75 cents.
Hero Members can get a heat pressed custom label for the reduced price of only 50 cents per item.
If you're a hero member and you also want to add a full-color branded insert and/or a sticker on the outside of the shipping bag, you are looking at an additional 25 cents each for these branding features.
Production & Shipping Times
Given that AOP+ is based in London, it's the obvious choice for sellers wanting print on demand in the UK and Europe, but you'd be surprised at how many brands based in the USA also use AOP+ just for their quality service.
Once you start selling consistently with your POD store, you'll realise how important quality and branding really is for the long term growth of your business.
Whilst AOP+ isn't the cheapest compared to some of the bigger corporations, they certainly are hard to match when it comes to product and print quality.
With the exception of busier peak times, production times are generally only 3-5 business days which is very good. If you're selling in the UK then your customer order will only take a a few days to arrive once shipped.
Even USA based orders generally only take about 1 week to arrive once shipped from London, so the time frames are well within what is considered acceptable in the print-on-demand industry.
The app can be accessed as a stand-alone app or via your Shopify dashboard. It's nicely designed runs quite fast which is important when trying to load new products and collections.
When you first enter the app, you can see a snapshot of your current average order value, outstanding invoices and other revenue and sales metrics.
When it comes to creating new products in the AOP+ app, you will quickly discover that the app works with "collections". What this means is, you need to add your artwork and create a collection first before you can start publishing individual products.
Then once you have created your collection you can enter the collection and start applying your artwork to individual products. You can also add different size artwork if certain products require you to do so.
If you've used other POD apps before you might think that this "collection first" approach is a little confusing, but it has some great benefits. The main advantage of this approach is that you can quickly and easily add your artwork to multiple products and then publish them in bulk.
The AOP+ app also allows you to add credit or you can add your credit card and turn on "auto-charge" so it automatically charges your credit card for any new orders.
One great thing about this app is that they quickly add new features when frequently requested by sellers, if they are seen as an improvement for the overall seller experience.
Ecommerce Platform & Marketplace Integrations
At the time of writing this article in December 2021, AOP+ currently integrates with Shopify and Etsy.
There are future plans to add many more integrations in 2022 such as WordPress/Woocommerce, Wix, Amazon, eBay and other mainstream ecommerce platforms and marketplaces.
Great Reasons to Use AOP+ as Your POD Dropshipping Partner
Part of the company values at AOP+ are to provide an amazing experience for not only sellers but the end user of the apparel and other products that get shipped out. This doesn't mean things always go right and there is always room for improvement, but the main outcome for AOP+ is customer satisfaction all-round.
Here's a few great reasons to partner with AOP+ as you grow your print on demand brand in 2022 and beyond:
Great customer service for all sellers
Superior product quality control
Competitive pricing for UK, EU and USA markets
Fast production times
Innovative and growing product catalog
Seller feedback is always evaluated and taken on board
The Final Word on AOP+
There's no secret that ecommerce store owners won't ever use just one print on demand app, but it's very easy to see why AOP+ is on many seller's list of apps they use.
Whether you sell on Shopify, Etsy, or both, AOP+ has a lot of positive qualities and great products that will complement any print on demand stores product offering.
If you've been a POD seller for a while now, you'll have noticed that many new suppliers come and go and sadly, leave a trail of unhappy sellers in their wake.
That's why it's important to choose a POD partner that will be around for the long haul and won't let you down.
Thanks for reading this article about AOP+, we hope you have learned more about this great printing partner and we encourage you to install the app for free and start your journey today!