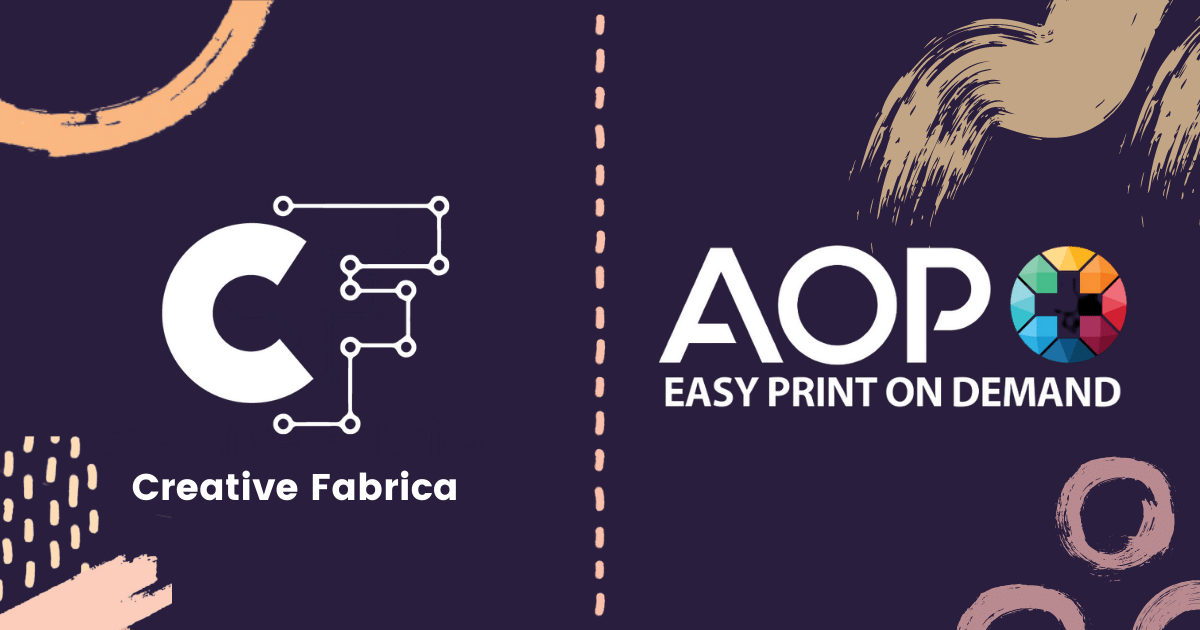 How to Sell Online with Creative Fabrica
Enabled by the internet, almost everyone nowadays can start their own online business. Due to the continuous growth in online selling and the increased competition, running a profitable online business might seem daunting. Well, there's no need to worry as we have a great solution for you! In this article, we will talk about an excellent avenue that makes starting and running an online business less intimidating. Keep reading to learn more.
Print on Demand
POD is a print-to order service in which the user can upload digital designs. Customers can then place an order to have it printed on a physical product such as t-shirts and coffee mugs. As a seller, POD allows you to only pay for what you sell and eliminates the need to invest in a large inventory, making it a safe and riskless method of selling.
AOP+ for example is a POD site that offers a simple way for business owners to sell their custom POD products anywhere in the world.
The main thing you need to do as a seller is provide the design.
This is where Creative Fabrica comes into play to make your POD journey even easier by offering you the possibility to create winning designs for your POD products.
What is Creative Fabrica?
Creative Fabrica is the largest digital marketplace for creatives and business owners, with over 5 million high quality fonts, graphics, and digital creative resources.
It is a highly valuable platform for Print on Demand (POD) sellers. With an abundant amount of creative resources, it is a great platform for you to make popular and profitable designs.
What makes Creative Fabrica special is its Print on Demand category, which comes with numerous benefits:
The ability to use designs as-is on POD sites. In most design marketplaces, a design asset comes with a commercial license that requires the user to significantly modify the design, creating a new design. Only then are they allowed to use it on products sold via Print on Demand sites. With Creative Fabrica's Full POD license, which covers all its POD assets, no modifications are needed. These designs can be used as is or complementary to the designs that you create.

Boost your POD income. With the ability to use designs as-is, you don't have to hire expensive graphic designers to create professional designs and spend too much time on creating winning designs. You can instead focus on optimizing other aspects of your POD business.

It's easier than ever to test out different POD trends. New design assets are added daily, and the library is growing bigger every day. There is a wide array of design resources that you can easily try out and experiment with. Browse these POD Designs and get inspired!
Grab a license that suits your POD business
There are several ways that you can choose from in order to get access to the designs on Creative Fabrica:
Purchase a design – sell it forever. If you purchase a design or a font with Full POD, you pay a one time fee and the commercial license is valid for life!
Sign up for a subscription and get unlimited access. With Creative Fabrica's premium All Access subscription, you will get unlimited access to more than 5 million digital resources including Full POD designs, fonts, and even online creative classes!
Learn more about the subscription license here.
An amazing discount for the AOP+ Community
Creative Fabrica is currently offering the All Access Subscription at a discounted price. It normally costs $29/month, but you can now get it for only $1 for the first month, renewing at only $19/month. That's a lifetime discount of 35%!
This deal gives you the perfect opportunity to try out Creative Fabrica's most popular subscription for a very small price. And if it turns out that the subscription is not for you, you can easily cancel at any time – no obligations and no questions asked.
To get the deal, simply visit this page.
Start selling your products
Once you've chosen the perfect design, all you have to do is open a shop on a Print on Demand site. AOP+ offers a full POD business package. When a customer makes a purchase from your store, AOP+ will handle the entire process including reviewing, packing, and shipping the order directly to your customer.
Simply integrate the AOP+ app with your favourite ecommerce platform such as Shopify, Etsy or BigCommerce. Once done, upload the design, choose the type of white-label products you want it to be available in (e.g. pillow cases, t-shirts, drinkware, etc.), and publish your product. It's that simple!
Promote your POD business
Last but definitely not least, it is important to invest time in promoting your POD store. If you have an online following, be sure to utilize it. Create a YouTube video, publish a post in your Facebook group or write a blog post about it on your website.
There are numerous ways to promote your store – make sure to try out these different ways to see what works best for you and don't stop learning!